Canceled Event Notes & More Report Flexibility
Hello %firstname% %lastname%,
This email comes at a time when we are all impacted by the coronavirus pandemic and its effect on sailing and friends.  I'm aware of at least one subscriber who has tested positive but is faring as well as can be with mild symptoms.  Most of the spring season sailing events have been cancelled into June.  The Crew Manager master calendar is being updated as we learn about event cancellations.  The number of cancellations has required calendar updates and prompted Crew Manager new feature updates.  Read on to learn more about the updates and new features added with incremental release version 2.9.2.  The Crew and Skipper Manual documentation remains at version 2.9 with the new features described on the Crew Manager Support Forum until the next major update.
New Features
Add a Note to Canceled Events: Crew Manager has an easy Cancel Event Immediately feature that allows the Skipper to cancel an event and notify Crew with just a button push. During the past month, I have been updating calendars using this feature but found the many cancellations due to Covid 19 required the event be edited to add a note.  The latest update includes a feature where a text may be entered in a dialog box displayed when the Cancel Event Immediately button is clicked. The text entered is inserted in the canceled event description. The picture below shows an annotated desktop display for J/109 Vento Solare with the dialog box. A phone display pops up a similar dialog box when Cancel Event Immediately is clicked.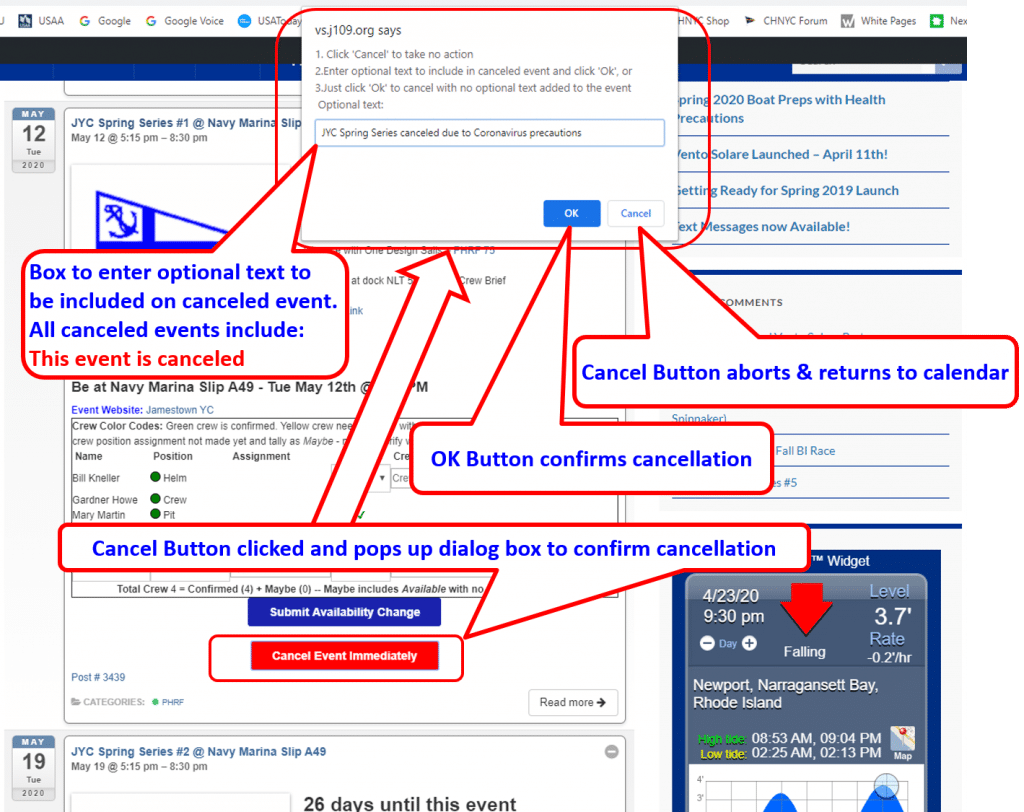 Custom Event Reports: Custom Crew Reports were incorporated in January 2020 with the ability to choose crew profile fields for screen display and download as a CSV file for Excel import.  Similar capability has been incorporated for calendar events.  Skippers may now produce reports with any of the event calendar fields and download as a CSV file for Excel import. Both reports are accessed from the same menu entry by mousing over Skipper and clicking on Custom Reports.  There is a dropdown at the top to select either Crew (default) or Event reports. The picture below displays an annotated event report screen. Note the dropdowns to select Categories & Tags with fields to choose the date range.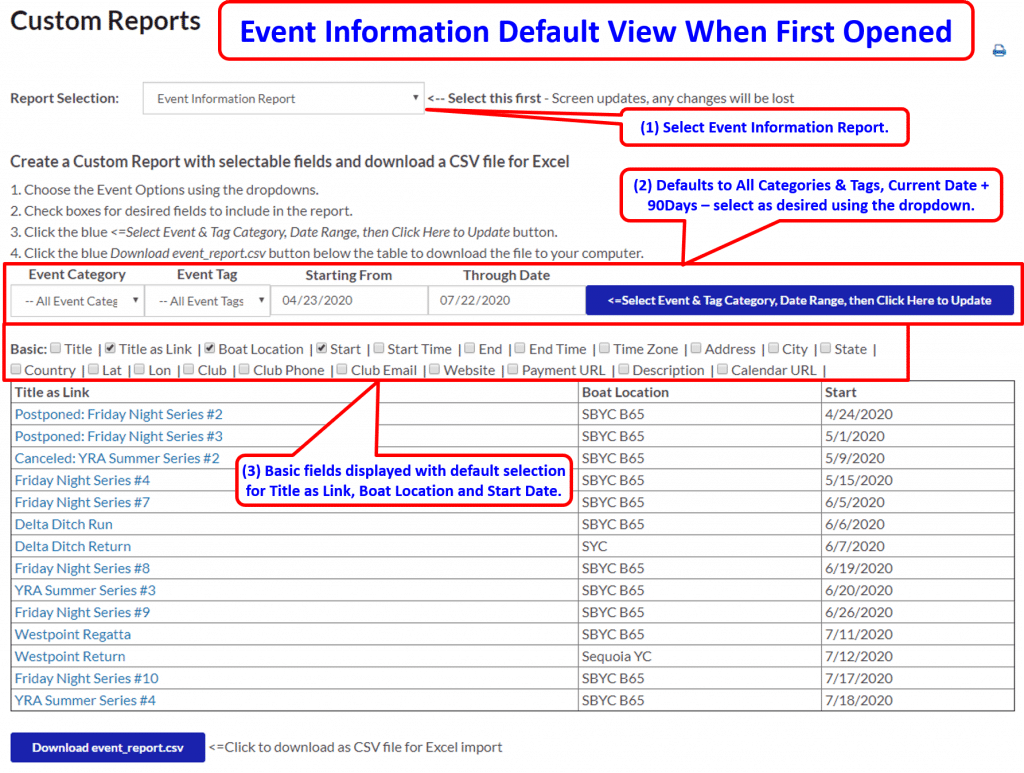 Bug Fixes
Fixed inserted date displayed as 1 January 1970 when a post was emailed upon being published.
Added mens waist size 44″ missing from short size option in crew profile
Fixed formatting of mobile display menu icons when phone is rotated from portrait to landscape
Feature Requests Under Consideration
Crew Pictures (Deferred):  Dan Corcoran from J/109 Strider requested a feature for Crew Pictures  Integrate with Smartphone.  Dan & I discussed the various options available with photo sites, links, etc. and agreed to follow up further once he looks at various alternatives.  I created a photo page on my J/109 Vento Solare site and post links to Google photos and Dropbox that crew members send. 
In App Messaging (Deferred): Dan Corcoran from J/109 Strider requested a feature for In App Messaging with Notifications & Positive Acknowledgement. He would like to know when someone reads a message initiated by Crew Manager.  Dan & I discussed this and the complexity of the various messaging systems.  Crew Manager uses standard email and SMS text messaging.  I told Dan I would be willing to integrate an established messaging app he identified, provided they offered a defined API that could be interfaced with, but it was not intended that Crew Manager develop its own messaging program.
Crew Manager Documentation
Support documentation is always available on the Crew Manager Support Forum. Anyone may read the forum but you need to create a forum account to post. The forum is easily reached via the boat website menu where the following choices are provided.
Crew Manager LLC is a low budget operation with website hosting expenses and RI Small Business tax filing expenses.  If you like it, please help recruit boats by forwarding this email to your friends.  The Annual Subscription for New Sites and Annual Subscription Renewal options are the best deal.  I hope you find Crew Manager as a useful means to organize your schedule and crew.  If you have suggestions on how it can be made better, feel free to post on the Support Forum.