New Feature Incorporated & Turn on Email easier when needed
Hello %firstname% %lastname%,
I normally don't send Crew Manager email updates more frequently than once per month, but wanted to let everyone know of a feature just incorporated.  This will immediately help those who are rescheduling events during the coronavirus pandemic, and be useful in the future.  The new feature easily allows Skippers to add multiple crew on events.  Read on for more information.  
New Feature Incorporated
Add 8 Crew at a Time Including Retired Crew:  Dan Corcoran from J/109 Strider requested a feature so that 8 crew at a time may be added to an event, including retired crew.  A prototype concept was posted and tested by Dan and by EC Helme of J/92s Spirit.  Tweaks were made and the final version rolled out.  Using Edit Assignments by Event on the Skipper menu,  there is now an option to add 1 to 8 Crew to an event.  It is also easy to add a Retired Crew member using a check box, without removing the user from the Retired group.

The annotated screen below shows the new section where 1 to 8 crew may be added for an event.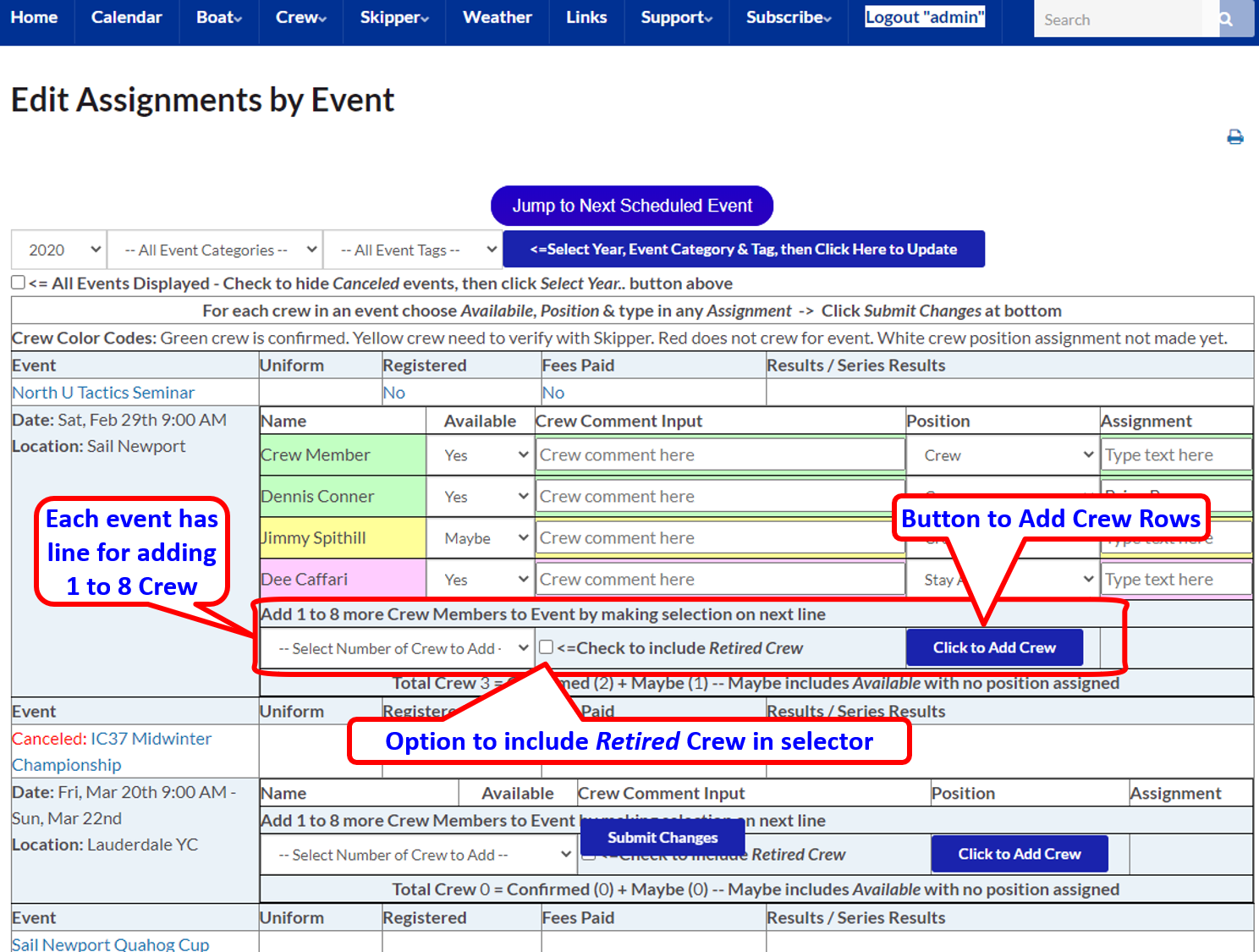 The process is pretty intuitive but, for those who would like to see a full explanation with additional screen shots please see this link on the support forum.
Convenient Links to turn Sending Email On when Turned Off:  Skippers occasionally disable sending emails in the WordPress Admin panel to allow editing of posts without sending Crew emails, or just to stop sending Crew reminders.  This  requires a few extra steps to turn sending emails back on and, is a minor inconvenience when using a page that requires sending emails on.  A new feature now displays a warning message at the top of the page with a direct link to the WordPress Admin panel Crew Manager Modify Settings page to enable sending email when the following menu items are used by a Skipper logged in: 

Boat – Results & Results Entry
Skipper – Send Email (also disables/enables Send Email button)
Skipper – Notify Maybe to Update Availability  (also disables/enables Send Email button)
Crew Manager Documentation
Support documentation is always available on the Crew Manager Support Forum. Anyone may read the forum but you need to create a forum account to post. The forum is easily reached via the boat website menu where the following choices are provided.
Crew Manager LLC is a low budget operation with website hosting expenses and RI Small Business tax filing expenses.  If you like it, please help recruit boats by forwarding this email to your friends.  The Annual Subscription for New Sites and Annual Subscription Renewal options are the best deal.  I hope you find Crew Manager as a useful means to organize your schedule and crew.  If you have suggestions on how it can be made better, feel free to post on the Support Forum.