New Features for the New Year!
Hello %firstname% %lastname%,
This email welcomes our newest subscriber Lance Ryley with his Columbia 30-2 RockIt 2.0 located in Charlestown, MA.  It also provides information about new features added with version 2.8 released on 3 January and describes bugs killed since major update 2.7 was issued on 8 October.  The Crew and Skipper Manuals have been updated to version 2.8 with revised screenshots and new feature explanations posted on the Support Forum.  If you were wondering — this message was created and sent using the enhanced email capability you all have on your sites with the Crew Manager version 2.8 release.
New Features
Full Featured Editor: There is now a full featured editor for email, posts, pages, events, and email templates. This replaces the previous limited editor, has features similar to the MS Word toolbar and appears automatically when an editor is required.
Enhanced Email Capability with Merge Print Templates:  The email program now has templates selected via a dropdown.  Each site was updated with two templates.  You may edit these, or create additional templates tailored for your boat. Email templates are available on the left menu by selecting WordPress Admin from the Skipper menu.  A "merge print" capability was added so that personalized messages may be sent to the crew, using information stored in an individual's profile.  Variables available are listed on the right side of the Skipper Send Email screen.  The newsletter you are reading used a merge print template with graphic header and  variables for first and last name to personalize the greeting.  As an example, you could send an email to verify each crew member's size and ask them to update their profile before buying crew swag. 
Select Who Mail is From: Skip Mattos from the Swan 42 The Cat Came Back has a program with three people who help coordinate crew logistics.  His feature request Multiple Group Email Sent From Addresses asked for the ability to easily change who an email was coming from in addition to the Skipper, so that replies may be sent to the correct person.  This has been incorporated with a dropdown on the email program listing those with Skipper or Admin rights. Selecting the sender also automatically updates the signature at the end of the message.
Append an Event to an Email: Gary Nackman from the Baltic 51 High Note requested Email Crew Notification of New Event  so he had a means to easily send crew members information about newly added events.  The feature incorporated allows an event to be chosen via a drop down in Skipper Send Email and have that event appended to the email message with a direct link to the event so crew may easily set availability. The North U Tactics Seminar at Sail Newport on 29 February is attached as an example.
Download Crew Roster to Phone: Dan Corcoran from J/109 Strider requested that the Crew Manager Crew Roster Appear in Smartphone Contact List.  This is a challenging task due the the various phone and carrier security requirements.  Rather than a direct sync, a button was added to download a vCard file so all the contacts may be easily imported to the phone. 
Send Email to Crew Missing Cell Carriers:  Dan Corcoran from J/109 Strider requested Add More Usability to Text Crew Members by allowing an email to be sent just to those who did not list a carrier for text messaging.  This was incorporated as a dropdown in the To: section of Skipper Send Email with a group named Crew having Mobile Number with No Carrier Selected.
Initiate Group Text Message from Crew Manager:  Dan Corcoran from J/109 Strider requested to Auto Create a Text Messaging Thread on Smartphone.  There is now a Compose SMS Text to Crew button displayed only on phones for each event and the crew roster.  Clicking this button automatically opens the phone SMS text application and populates the address field with the mobile number of everyone listed for the event or group selected on the roster.  Some cell carriers may limit the number of recipients allowed in the address field.  If you exceed that limit, you may receive an error sending the message.  You should check with your carrier on what, if any limits exist,
Crew Comments When Setting Availability: Crew now have the ability to provide a short comment that is sent to the Skipper and posted next to their name on an event when they set their availability.  This allows input for comments such as "will arrive by 5pm after work", "I'll bring beer", or "bringing a friend".  It is also helpful if you are receiving RSVPs for a social event and asked people to respond with what they will bring. The field Crew Comment Input displays on all events, Availability and Assignments on the Crew menu plus Edit Assignments by Crew and Edit Assignments by Event from the Skipper menu.
Popup Displays on Mouse Over Events:  The calendar always displayed a popup summary when an event was moused over.  Now all the Crew Manager screens that list an event display a popup summary when an event is moused over.  If a user is logged in, the buttons inside the popup will be active depending on the level (e.g. Crew or Skipper). The popups provide a convenient way of viewing an event more rapidly than having to click on it to open.
Bug Fixes
Various formatting fixes were made as new features were added.
Fixed loading multiple SMS numbers exceeding allowable URL length in browser
Fixed event calendar settings couldn't be accessed due to changes Time.ly made to All in One Event Calendar plugin
No additional bugs have been reported
Feature Requests Under Consideration
Crew Pictures (Deferred):  Dan Corcoran from J/109 Strider requested a feature for Crew Pictures  Integrate with Smartphone.  Dan & I discussed the various options available with photo sites, links, etc. and agreed to follow up further once he looks at various alternatives.  I created a photo page on my J/109 Vento Solare site and post links to Google photos and Dropbox that crew members send. 
In App Messaging (Deferred): Dan Corcoran from J/109 Strider requested a feature for In App Messaging with Notifications & Positive Acknowledgement. He would like to know when someone reads a message initiated by Crew Manager.  Dan & I discussed this and the complexity of the various messaging systems.  Crew Manager uses standard email and SMS text messaging.  I told Dan I would be willing to integrate an established messaging app he identified, provided they offered a defined API that could be interfaced with, but it was not intended that Crew Manager develop its own messaging program.
Multiple Events Set Availability on Expanded Calendar List: The existing calendar list has the ability to open all events and display availability dropdowns and a submit button for each event.  Currently submission and update is limited to a single event.  It is desired that this operate similar to the Availability and Assignments pages under the Crew menu where the submit button handles multiple events. This will be investigated on how best to incorporate.
2019 Season Recap
Skippers may analyze their 2019 crew assignments by clicking on Crew Position Assignment Report available under the Skipper menu.   This feature was added last year at the request of EC Helme (J/92s Spirit). EC does a great job tracking his crew.  The 2019 J/92s Spirit crew tracking report is shown below.
If you have been entering results after each race, the season is summarized by mousing over Boat on the menu and clicking on Results.  Chris Zabailo (J/112E dopodomani) has a very active program on Mass Bay and provides a best practices model for summarizing races and posting results on his site.  Check out the J/112E dopodomani site to see the race recaps, and below view the J/112E dopodomani screen shot with race results.  Chris has so many races, that the screen shot can't cover the entire season!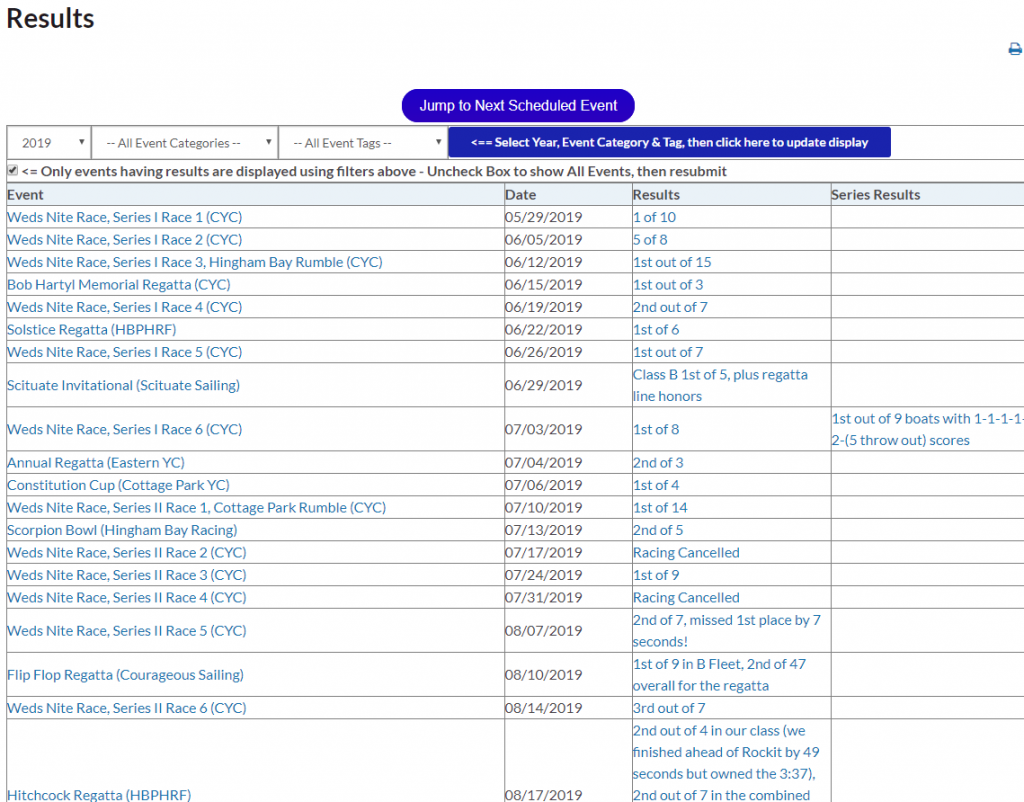 2020  Season Planning
Existing Crew Manager subscribers planning a new season have some useful tools to setup the 2020 schedule.  Smart Copy Events Between Years makes it easy for those who have a 2020 schedule similar to 2019.  Events are copied with a selectable date offset so the 2020 event appears on the correct date. You may also Import an Excel Spreadsheet to Populate the Calendar to easily load new events. This is handy to enter many events at one time.  You may always enter events individually with these tips to Create Events & Split Repeating Events (e.g. Regatta Series). 
Crew Manager Documentation
Support documentation is always available on the Crew Manager Support Forum. Anyone may read the forum but you need to create a forum account to post. The forum is easily reached via the boat website menu where the following choices are provided.
Crew Manager LLC is a low budget operation with website hosting expenses and RI Small Business tax filing expenses.  If you like it, please tell your friends to help recruit boats.  The Annual subscription option is the best deal and  helps me meet cash flow requirements.  I hope you find Crew Manager as a useful means to organize your schedule and crew.  If you have suggestions on how it can be made better, feel free to post on the Support Forum.